McCallum Folk Pipes
Introducing the McCallum Folk Pipes.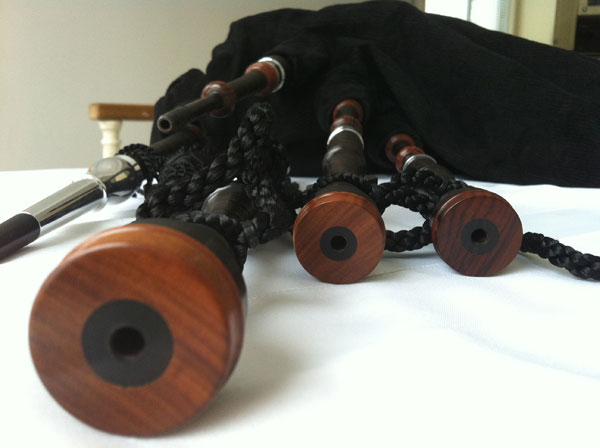 These pipes are African blackwood with mopane projecting mounts and drone tops, and nickel ferrules. The chanter is poly. The pipes are in A=440, with a cane chanter reed and Ezeedrone reeds in the drones. They come with a zipper bag and mositure protection cannisters for the chanter and all three drones, so you don't have to worry about them getting soaked as you play.
The pipes are easy to blow, sit nicely under the arm, and there are no new skills needed for Highland pipers here, just pick them up and play! Fantastic for inside, playing in sessions or with other musicians, and even on your own a great way to have tunes late into the night without keeping the neighbors [or the family] awake!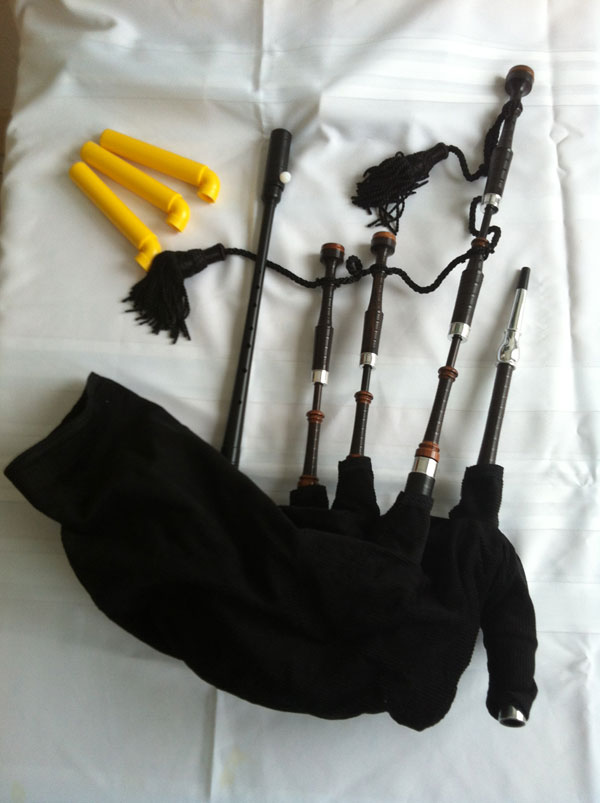 McCallum Bagpipes
McCallum Bagpipes is the world's favourite Great Highland Bagpipe maker. They manufacture pipe chanters, practice chanters, reeds and Scottish smallpipes, as well as supply all Andante, Pearl & Premier pipe band drums and quality Scottish highlandwear from a 10,000 sq ft factory showroom in Kilmarnock. Started initially by well-known pipers Stuart McCallum and Kenny MacLeod, McCallum Bagpipes now also boasts the expertise of champion piper Willie McCallum, as well as Fred Morrison, and a large staff of skilled people who specialize in the production of quality products.

McCallum Bagpipes are known throughout the world for their products AND their service, and Reelpipes.com is proud to be able to offer these products to customers. Offerings include Highland bagpipes, Willie McCallum's MC2 solo chanters, full sets of McCallum band chanters, practice chanters, MG Reeds and many other excellent products. Contact us directly to inquire about products and prices. If you would like to see the full range of McCallum products, have a look at their excellent online catalog.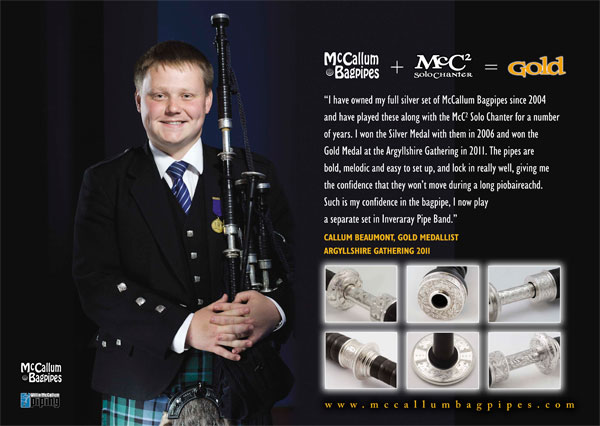 New Regulations for Importing & Exporting African Blackwood
In late 2016, the Convention on International Trade in Endangered Species of Wild Fauna and Flora (CITES) added African Blackwood to their list of protected species. This means that all sales and transport of African Blackwood are strictly monitored, and it provides some extra administrative steps for bagpipe manufacturers and retailers.
New tracking and certification for exports will mean that there will be an added £70 fee to ANY blackwood product shipped from the UK. Some of this will be mitigated by bulk shipping (£70 regardless of number of items), but individually shipped orders of reelpipes, smallpipes and Highland pipes will incur this extra fee.
USA customers ordering blackwood products from Reelpipes.com will pay the £70 if the product is shipped direct to them from the factory, however there will be no extra charge for products in stock, shipped from Canada to the USA. There is still a requirement for a Canadian export certificate, but at this time there is no extra charge for that, but it will mean a delay waiting for certification.
For more information on CITES, visit: https://www.cites.org/