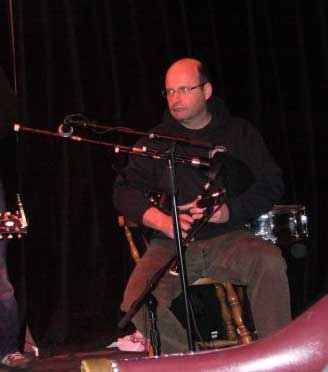 Fred Morrison Reelpipes have a characteristically resonant, expressive sound. Since the pipes were first launched by Fred, they have been used by a wide range of performing and recording artists, as well as enthusiasts from near-beginner to accomplished pros looking for some fun with fiddlers!
Fred Morrison and the staff at McCallum Bagpipes work to ensure that each and every set of Reelpipes meets their exacting standards. Fred puts in a lot of time on every set of pipes that is shipped. He makes sure it's all balanced, in tune, airtight, and working just how he'd like his own pipes to work and sound.
The standard of the bellows is paramount to the quality of tone produced by the pipes. Made from the highest quality leather, with plush leather covered cushion pads sewn on the front and back, the reelpipe bellows are 100% airtight and extremely comfortable to play.
The chanter is crafted from African Blackwood and is perfectly tuned to concert pitch, A=440. The sound is clear with an excellent dynamic, allowing the piper full expression when playing.
The drones are also made of African blackwood. Steady and melodious, the harmonics they produce work extremely well with the chanter.
The drone reeds are made by Pipe Dreams – makers of Ezeedrone Reeds. The reeds have been developed specifically for the drones of Fred Morrison's Reelpipes and provide a harmonious drone sound, while remaining completely steady.
Each set is fitted with a drone switch as standard – a great asset to any player, both professional and beginner. The learner can simply turn off the drones, allowing the player to concentrate on learning to use the bellows with the chanter on its own. For the more accomplished player, the drone switch can be used to great effect when performing to, for example, bring the drones in with another instrument.
The Reelpipe reeds were developed simultaneously with the chanter, with the result that the chanter and reeds are perfectly matched. Extra reeds are available from Reelpipes.com.
Each set of pipes is ornately finished with engraved nickel silver, in a choice of designs, and imitation ivory mounts. Sterling silver is also available [price on request]. See the engraving page for sample images.
This video was made at the reelpipes table at McCallum Bagpipes' factory in Kilmarnock. Once the components are all made and assembled, Fred comes in to personally work on each set of pipes, and here he is finishing final tuning details on a set of reelpipes before they are shipped out to an extremely happy customer!