Hi Iain,
I received my smallpipes a couple days ago. They are beautiful and sound great! Thanks so much for your help.
Sean M.
USA
---
The chanter arrived right on schedule (shipped Monday from McCallum and arrived here in Ithaca, NY Wednesday- amazing!), and I'm very pleased with it. It was amazingly in tune right out of the box, and the playing pressure and volume balance are really quite nice.

Glad to do business with you. I'd certainly recommend you to others and will.

Cheers!
MR, Ithaca, NY
---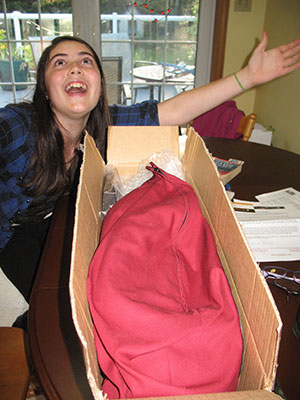 Thank you so much for all your help. Emma was so excited when her pipes arrived. I got her picture, please see attached.

We are all super excited!
Halifax, NS
---

Just a note of thanks for you advice and set up of the MacRae SL4 pipes I purchased from Reelpipes. The blend of drones is fantastic, just what I had hoped for. The Bannatyne WMC bag is a pleasure to play and fits comfortably for long practice sessions. Thanks again for the honest advice and prompt service, I'll recommend Reelpipes to my band mates.

WMC
---
Just a quick note to thank you for the good advice and great service regarding the Selbie reeds. After a holiday absence I've had a chance to install and play the reeds, what a world of difference, these old drones have the sound I was looking for. Thanks again, WC
---
Thanks Iain! These pipes are playing like heaven, they never sounded like this before. They are playing with very little air and sound sweet. Thanks again. Angus
---
I just returned from a business trip, stopped by the UPS customer service dept. and took possession of my new Morrison's. In a word, they're 'stunning'. The photos available on the web simply do not do them justice - they're much better looking 'live'. The quality of the craftsmanship and set-up is absolutely first-rate. I'm pretty fussy about drone bores, and my Morrison's are smooth and polished. I played the chanter by mouth and the scale sounds accurate, and the hole spacing is comfortable and easy to play - about the same as my long practice chanter. The drones sound great too. What more can I say? My new pipes have exceeded my expectations!
A. MacPhàrlain
USA
---
Well, it's the evening before Winter School and I'm still huffing and puffing. Can't play anything but slow aires. Suddenly the chanter "pops out" and hits the floor. Didn't check joints. The reed is laying beside it. So I says to myself, "Self, as long as I've got to re-tune this thing I might as well try Iain's reed."
Hmmm... A lot of hemp on it. Well, let's just put it in and see where it is. Whoa! A fraction of the pressure. A fraction of the air. And more volume. How's that work? And the harmonics are fabulous! It has a much better "voice". My buddy, a trumpet player happens to be in the house and over hears it. "It's like a whole new instrument", says he. My wife agrees. The cat, of course, has already left the building, but she never did appreciate the Pipes.
Now, I can play pretty much my whole repertoire. So if anyone balks at $50 for a reed, tell them to call me.
I'm off to Winter School with a smile.
-CF
---
Thanks Iain for all your help selecting and acquiring my new McCallum highland pipes. They are terrific!
For anyone wanting any advice or assistance in purchasing pipes, Reelpipes is a must. Not only is Iain knowledgable and willing to help, his passion for the piping world is amazing. His historical perspective and stories make getting new pipes a whole lot of fun!
Thanks again Iain!
Ian B.
---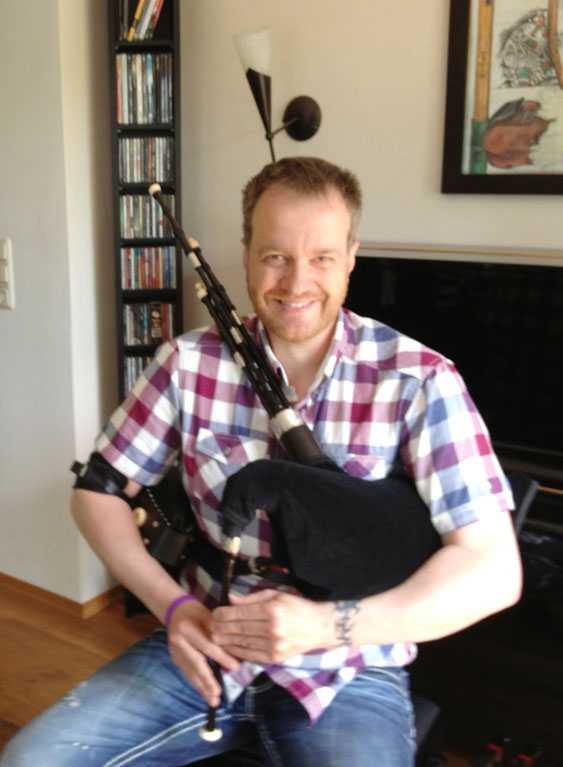 "Lovely instrument! Thanks for your support."
Ralk G., Germany
---
Hi Iain.
I hope U are well.
U know I enjoy a lot playing this beautifull instrument.
Here is a picture of me.
Later I will send to U some videos.

McCallum bagpipes - what else!

All the best,

Oliver
---
"My pipes arrived yesterday. The pipes are beautiful and I am thrilled with the craftsmanship and quality."
Tim B
---
Today the smallpipes arrived in best condition, a wonderful instrument; I hope we´ll become good/best friends, the pipes and me!
Christine H.
Germany
---
Hi Iain,
As you know I got my Fred Morrison smallpipes that I ordered from you. I absolutely love them. I also want to say thank you for all your help. I had many questions and you were always so prompt and helpful. I have recommended you to some of my friends who have expressed interest in smallpipes. Thank you again for all your help.
Janice
USA
---
The pipes arrived in good order. I really love the tone, I was playing poly mouth blown ssp with plastic reeds, they were in tune, but the tone was lacking! I am impressed with the efficiency of the bellows, they are moderately sized yet supply ample power to the bag. The finger spacing is comfortable. I had to shorten the connecting pipe between the bellows and bag to fit my frame, but this was easy. Overall, these pipes are a great value and very well designed, the workmanship is top-notch with a tone to match. They played 10 cents flat of concert A440, but an hour of just playing them brought the pitch up to within 2 cents, (amazing!) Also, the drone switch is a wonderful feature, they facilitate tuning and can be used to great dramtic effect when playing ( I can turn my drones on and off with my chin whilst playing!) I could write pages about these pipes. Thanks for your patience throughout my wait.
Ryan S.
Pennsylvania, USA
---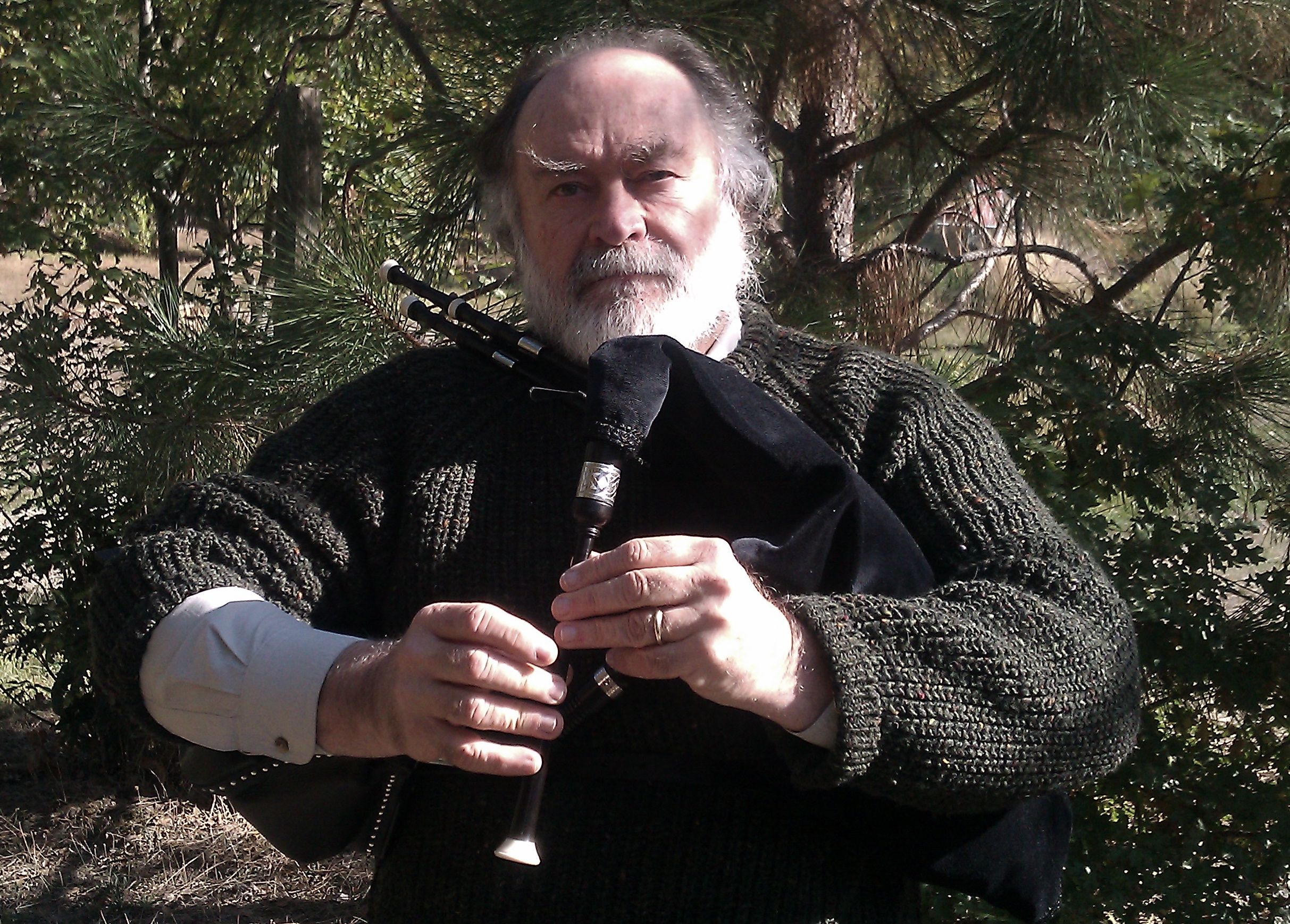 Dealing with Reelpipes.com was a piper's dream. Straightforward information, quick response to queries, and very clear communication about the instruments. And the pipes are magnificent. Met my expectations in every way. They arrived a week ago, and I'll be using them in performance in another week. Killer sound, easy to play and a very very high standard of construction. What more could you want?

Kevin Carr
Oregon, USA
---
Hi Iain,
Thanks for the follow up.
I am very pleased with them......The bellows are superb!!!!!!
The sound is well balanced and bright.........I had a set of [maker name] bellows smallpipes(circa1999-2000) in C which were also a very good smallpipe but I will say that I am more impressed with the Fred Morrison smallpipes ...excellent craftsmanship with sound to match!!!
Best regards,
Andrew B.
---
I am extremely pleased with the Fred Morrison Reel Chanter. It has a sweet sound, lovely overtones and I am looking forward to using it in concert.
Rob Menzies,
Vancouver
---
It is a very nice looking chanter. Good craftsmanship. Well done. Makes me wish now that I had the whole set. My first impressions were excellent. The chanter pitch is right on. I am mostly pleased that the FM chanter is considerably more stable in pitch, especially the high hand notes in comparison to my other chanter. So as I say, my first impressions are all excellent. Thanks for everything. This has been an easy, no stress and very timely transaction. I'm really very pleased. Please convey my regards and appreciation to the Morrisons as well. Cheers and good piping,
Chuck Boda

New York, USA
---

Fred Morrison reelpipes are the bomb! I am so glad I decided to order these pipes, I cannot seem to put them down. My 1870 Hendersons and uilleann pipes are being neglected. I'd like to thank Iain for the great service in getting them across the pond to me.
 

Dan Bentley

New York, USA
---
After a short adjustment period to the bellows technique I had a great time with Fred's pipes. They were easy to tune, steady and gave me a whole new perspective on how to create bagpipe music.


Michael Grey

Dunaber Music



---
Fred Morrison and crew sent me a beautiful set of pipes with superior bellows and very nice chanter tone. Finally I have brought a "Highland-sounding" bagpipe to the San Francisco Scottish Fiddlers that's in concert pitch and not quite so loud-- the rift between fiddlers and pipers has been mended.


Bruce Maxwell

California
---