Reelpipes.com September 2017 News

September 2017
WELCOME TO AUTUMN
Offically, autumn begins September 21, but we're all thinking about the re-launch of teaching, band programs, and preparation for 2018. At Reelpipes.com, we've got you covered on all these fronts, with in-stock practice chanters (3 sizes), bagpipes, drum sticks and pads. Let us know what you need to get your band/program going for the fall.
BAGPIPES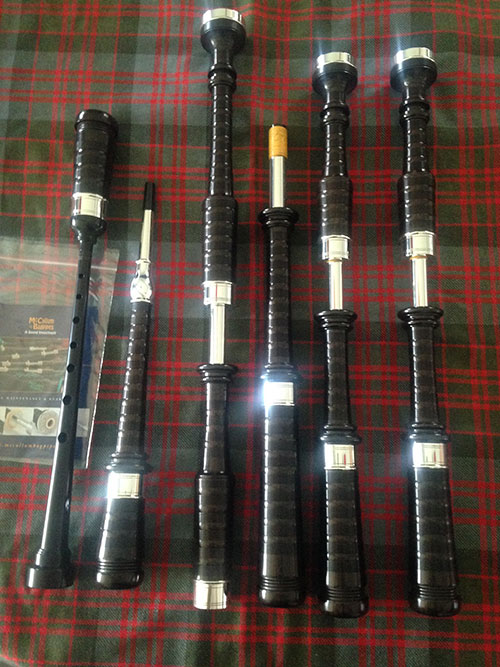 Reelpipes.com has some excellent pipes in stock at the moment, including McCallum AB0, AB1, P1 (Acetyl) and Duncan MacRae SL2. We're extending our FREE drone and chanter reeds with any new, in-stock set purchased in Spetember. [Value: $109 + taxes]

PIPE BAGS
If your band is playing sheepskin bags you can save a little by ordering replacements/spares a few at a time. If your members buy their own bags, tell them to send an email and quote the code BAGDEAL to get a sweet discount on bag replacement. We'll be placing a bag order by September 15, so let us know before then if you can and we'll make sure you are lined up for that great sheepskin sound.
• Bellows Pipes Bag - this special bag was designed by Reelpipes.com and made by James Begg for smallpipes and reelpipes. (sizes available: small, regular)
https://www.reelpipes.com/category/35-pipe-bags
A GOOD BEGINNING
We have practice chanters in child, regular and large sizes, as well as a selection of traditional and fancy chanters from McCallum Bagpipes, including a "Starter Kit" with a practice chanter and a National Piping Centre Tutor.
https://www.reelpipes.com/category/43-practice-chanters
We also have starter kits for snare drummers, with an excellent pair of drum sticks and a practice pad.
https://www.reelpipes.com/product/1405-beginner-drum-kit-pad-sticks
AUTUMN REEDING
We supply quite a few band with reeds throughout the year, and they rely on us to give them quality chanter and drone reeds from the top makers. If your band wants to get the drop on some excellent reeds this fall, let us know shortly and we'll get you in on the fall orders of fresh reeds from the best makers in the business.
• G1 Platinum - This reed is favoured by many bands in all grades for the quality and consistency they deliver, and they go well in a variety of chanters.
• Chesney - The majority of Grade 1 prizewinning bands play Chesney reeds [Inveraray, Field Marshal, SLOT, SFU, Shotts, Boghall...] and they do so because they really are good. In our experience, they may be a little harder to manage in dry/high climates, but deliver a broad rich sound when managed well.
• Melvin - Adrian Melvin turned his years of top Grade 1 experience into making chanter and drone reeds, and his reeds are being played by ScottishPower Pipe Band, who have had a superb season. A recent re-tooling/design has made the reeds easier to blow, with the same great sound.
• Troy and MacLellan - JWT Reedmakers and Colin MacLellan both make excellent reeds suitable for solo and band, and you'll find that many of the world's top soloists are playing one or the other.. Need a great piobaireach high G? Look no further.
https://www.reelpipes.com/category/16-bagpipe-reeds
GREAT BOOKS
• P-M Donald MacLeod, MBE - $20 - Newly edited and printed collection of his original tunes.
• P-M J.A. MacLellan, MBE - $35 his collection of original piuobaireachd, which includes high-quality recordings by today's master players.
• Alex Duthart - Volumes 1 and 2 - The legendary Alex Duthart's drum scores and exercises are now available on the site!
MORE NEW ADDITIONS

We are always adding new products, and we hope to have some new products and demos highlighted in October. Some current recent additions include: Ezeedrone Absorb drone reeds, Alex Duthart Books, Trap-Dri systems including the new "Drone Dri" system, hide bags for bellows pipes, and be sure to check out our Chieftain whistles. They have a beautiful sound! https://www.reelpipes.com/category/71-whistles
SPECIAL OFFER FOR REELPIPES.COM SUBSCRIBERS!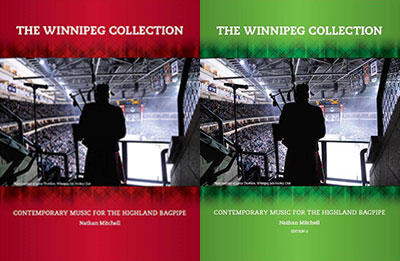 GET BOTH COPIES OF THE WINNIPEG COLLECTION (EDITION 1 AND EDITION 2) FOR ONLY $29.99 CAD.

The Winnipeg Collection is a music project in support of the Canadian Mental Health Association. There are two editions of professionally produced, full color collections of music for the great highland bagpipe compiled by PM Nathan Mitchell. The books include a biography and photo of each composer along with detailed descriptions of many of the tune titles or photos relating to the compositions. The project includes music submissions from around the globe including Canada, United States, United Kingdom, Australia, New Zealand, South Africa, Spain, and Poland.

ORDERS CAN BE PLACED THROUGH THE WEBSITE: WWW.WPGCOLLECTION.COM
LOOK FOR THE "REELPIPES.COM SPECIAL OFFER"
Reelpipes.com in the community
The City of Regina Pipe Band is celebrating 25 years of continuous Grade 2 playing this year, and we recently finished the competition season with a great trip to Calgary and Canmore Highland Games. The band's new t-shirt is available on the band website and we're looking forward to the start of the Grade 4 Conservatory Pipe Band. Some local pipers have started a Regina Pipers' Club which should be a great way to hear and play some tunes over the winter.
Email: reelpipes@gmail.com
Telephone: 306-533-6678